Rep. Carlos Tobon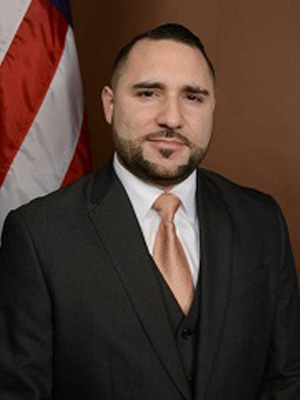 Carlos E. Tobon (D) was first elected in November 2014 to the House of Representatives from District 58 in Pawtucket. He serves as the first vice-chairman of the House Committee on Veterans' Affairs and is a member of both the House Committee on Finance and the House Committee on Environment and Natural Resources. He is the co-chairman of the Legislative Black and Latino Caucus.
During the 2017 legislative session, Representative Tobon sponsored legislation that amends the Rhode Island Underground Storage Tank Financial Responsibility Act to streamline fund processes and clarify language within the law. The bill became law after passing the General Assembly and being signed by the governor.
Representative Tobon had four bills passed during the 2016 legislative session. To crack down on sex trafficking and prostitution, he sponsored a new law that provides municipalities with the powers necessary to regulate unlicensed massage parlors. Representative Tobon also championed legislation supporting the 'Fitting the Description' movement that requires law enforcement to automatically destroy all pertinent arrest records for those who are victims of mistaken or wrongful arrests. He also introduced successful legislation mandating that the Resource Recovery Corporation report on the economic impact of recycling related industries in Rhode Island. To eliminate lines during elections, Representative Tobon authored a new law authorizing the use of additional poll supervisors.
Representative Tobon's past public service includes memberships on the Central Falls Board of Trustees, Pawtucket Business Development Corporation, United Way of RI Advisory Council, Blackstone Academy Charter School, and Books Are Wings.
Employed by Cross Insurance of Rhode Island, Representative Tobon is a reserve petty officer in the U.S. Coast Guard.
He graduated in 2000 from Tolman High School, Pawtucket, and attended the Community College of Rhode Island and the University of Rhode Island.
He was born on February 3, 1982.
Committee Appointments
First Vice-Chairman, House Committee on Veterans' Affiars
Member, House Committee on Finance
Member, House Finance Subcommittee on Education
Member, House Finance Subcommittee on Human Services
Member, House Finance Subcommittee on Public Safety
Member, House Committee on Environment and Natural Resources
Co-Chairman, Legislative Black and Latino Caucus