Asm. Víctor Pichardo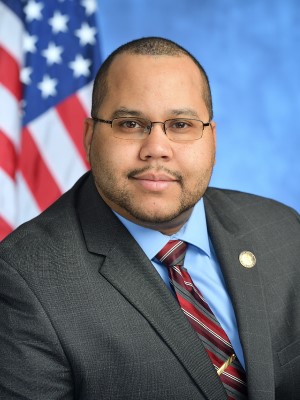 Assemblyman Víctor M. Pichardo (NY-86), the youngest son of Luisa Duran and Víctor Pichardo Sr., understood from an early age that public service is the noblest of callings and hard work is the cornerstone to any success in life.
Born in New York City, Victor spent his childhood living in the Fordham Road section of the Bronx and the Inwood section of Upper Manhattan. In 1993, Víctor and his family relocated to his parents' homeland of Santo Domingo, Dominican Republic where he completed most of his elementary school education. In 1997, Victor and his family moved back to the Bronx where he finished his middle school education at M.S 143 and St. Matthew Lutheran School. Eventually, Victor went on to graduate from DeWitt Clinton High School in 2003.
After graduating from the University at Buffalo in 2007 with a degree in Communications and double minors in English and Sociology, Víctor pursued an internship with Senator Charles Schumer in New York City. After completing his internship, Víctor became Senator Schumer's Staff Assistant and was eventually promoted to Community Outreach Coordinator/Latino Liaison.
After serving 4 years in Senator Schumer's office, Víctor expanded his career and became an Associate Director of Public Relations at Mercy College. Although it was a wonderful experience, Víctor missed the life of public service and decided to return to his true calling. In 2012, Victor became the Director of Community Affairs for State Senator Gustavo Rivera in the Bronx.
He currently serves as Vice Chair of NHCSL's delegation to the Quad Caucus which joins NHCSL with the National Black Caucus of State Legislators (NBCSL), the National Asian Pacific American Caucus of State Legislators (NAPACSL), and the National Caucus of Native American State Legislators (NCNASL).
Víctor is the youngest of three siblings, all of which serve the public good in different capacities. His sister, Rosángela, is a New York City public school teacher at the Isaac Varian Academy, P.S. 8 in the Bronx and his brother Jose is a Forensic Accountant for the U.S.Office of the Comptroller of the Currency.