Rep. Diego Espinoza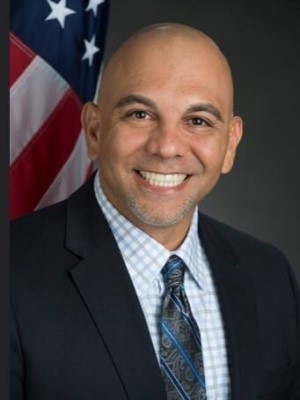 Representative José "Diego" Espinoza (AZ-19) is the West Region Chair of the National Hispanic Caucus of State Legislators. Prior to his election on December 5, 2019 he served as a member of the NHCSL Executive Committee.
Rep. Espinoza is currently serving his second term in the Arizona House of Representatives. He previously served as a Council Member and Vice Mayor of Tolleson, Arizona
In 2007, Representative Espinoza opened Fuego Bar & Grill. His talents in marketing strategies, team building, and business administration has allowed the business to grow substantially over the years. As a pride point for Tolleson, Arizona, Representative Espinoza ensures this restaurant provides opportunities to give back to the community by hosting numerous events throughout the year.
To compliment his professional career, Representative Espinoza has earned a Total Quality Management Certificate, an Associate of Arts in Organizational Leadership, a Bachelor of Arts in Business Management and is a proud graduate of Hispanic Leadership Institute-West and Leadership West.
Over the years, Representative Espinoza has served on numerous boards and commissions including:

National Association of Latino Elected and Appointed Officials (NALEO)
Board of Hispanic Caucus (Chair)
Arizona Latino Caucus
Native American Caucus
Commerce Committee Banking and Financial Services Committee
Maricopa County Community Development Advisory Commission
Southwest Valley Chamber of Commerce
National League of Cities and Towns
Hispanic Forum de Oeste
United States Green Building Council
Energy Star
Rebuild America
National Council for La Raza (now UnidosUS)
Tolleson Community Action Program Advisory Board
Tolleson Advisory Board Chair for the Salvation Army
Blessed Sacrament Event Coordinator
Teen Youth Council Mentor
Tolleson Service Committee
Tolsun Farms Block Watch