Sen. Víctor Torres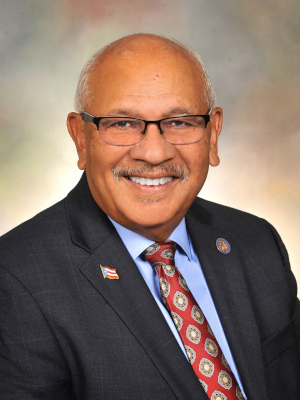 Florida State Senator Victor M. Torres, Jr., proudly served in the United States Marine Corps. He is a retired Detective from the New York City Transit Police Department. After relocating to Florida in 1993, he worked and retired from transportation as a Public School bus driver and subsequently from the Central Florida Regional Transportation Authority (Lynx).
Senator Torres ran for public office and was elected and served in the House of Representatives for District 48 from 2012-2016. He ran for State Senate District 15 in 2016 and reelected subsequently.
Senator Torres is proud to serve as State Senator for District 15, which covers all of Osceola County and parts of Orange County. Senator Torres is a member of the Commerce and Tourism Committee; Appropriations Subcommittee on Criminal and Civil Justice; the Children, Families, and Elder Affairs; Governmental Oversight and Accountability; Military and Veterans Affairs and Space; Joint Select Committee on Collective Bargaining and the Joint Legislative Auditing Committee.
Senator Torres passed his first bill in 2017, CS/SB 1694, to Support for Parental Victims of Child Domestic Violence, which offers Support for Parental Victims of Child Domestic Violence and services for the family.
Senator Torres's legislative priorities are issues that directly impact the health, safety and welfare of the community.
Senator Torres considers it very important to stay involved in the community and is an active member with the Fraternal Order of Police; League of Women Voters of Orange County; Kissimmee/Osceola Chamber of Commerce; St. Cloud Chamber of Commerce; West Orange Chamber of Commerce; Lake Nona Chamber of Commerce; Puerto Rico Chamber of Commerce and the Hispanic Chamber of Commerce of Metro Orlando. Former Vice Chair of Labor Council for Latin American Advancement. Former trustee of Central Florida Labor Council; Former Southeast Regional Representative of ATU-Latino Caucus and past member of Florida Voters League, Inc.
Senator Torres is married to Carmen L. Torres. They have five children Yvonne Torres; Victor M. Torres, III; Justin Torres; Amy Mercado; Melony Marcella; eleven grandchildren Evan, Eliza, Jeremy, Jaslene, Ivan, Rebekah, Arielle, Aaron, Carin, Nadia and a very spoiled Shih Tzu named Isabella.