Rep. Angela Romero
Biography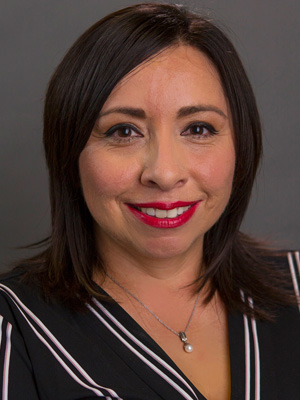 Angela Romero has always had a passion to serve. Growing up in Tooele, Utah, Angela was raised by her grandparents. Their dedication to raising a hard-working, well-educated woman inspired her to pursue college, graduating with a Bachelor's degree in Political Science and a Master's Degree in Public Administration from the University of Utah. In 2012, she won election to represent House District 26 at the Utah Legislature. In 2016, she was elected by her colleagues to serve as the House Democratic Assistant Whip. Her upbringing, paired with her education, gives Angela a unique perspective into the needs of Utah's growing communities.
Now just shy of two decades of public service, Angela splits her time between her work of supporting communities throughout Salt Lake City and her legislative duties that impact the whole of the state of Utah. Working with local government, Angela oversees community programs and initiatives in the Division of Youth and Family Programs, including supervising the YouthCity Government Program. At the state legislature, she champions for issues including victim's rights, preventing sexual assault and domestic violence, and promotes clean energy initiatives that will provide Utah a sustainable and stable future.
In addition to her professional career and legislative duties, Angela currently chairs the National Hispanic Caucus of State Legislator's Education Task Force and serves on the Latina Legislative Initiative Committee, Utah's Rape Kit Processing Work Group, Friends for Sight Board of Directors, Salt Lake Acting Company Board of Directors and is the National Foundation for Women Legislator's Utah State Director. Angela also received the 2015 YWCA Public Official of the Year Award for her work on sexual violence, immigration, economic and environmental justice issues.
Affiliations
Your Utah Your Future Education Task Force (Subcommittee of Envision Utah), member, 2014 – Present.
Rape Kit Processing Work Group (Utah Sexual Violence Council), member, 2014 – Present.
Parent Involvement on School Community Councils Task Force (School Children's Trust / Utah State Board of Education), Chair, 2013 – Present.
Mobilizing for Action through Planning & Partnership (MAPP) Steering Committee (Salt Lake County Board of Health), member, 2013 – Present.
900 West Farmer's Market (formally the People's Market), Board of Directors, 2011 – Present.
Utah Coalition of La Raza, Board of Trustees, 2002 – Present.
Utah Martin Luther King Jr. Human Rights Commission, former Vice-Chair, 2006- 2011.
Salt Lake County Democratic Party, former Secretary, 2005 – 2009.
Recognitions and Honors
Legislative Coalition for People with Disabilities Hero on the Hill, 2014.
Rape Recovery Center's Pillar of Community Award, 2014.
Inclusion Center's Joseph Rosenblatt Humanitarian Award, 2012.
Salt Lake County Democratic Party's Young Democrat Community Action Award, 2003.
Legislative Information
You can view Angela's legislative information on the Utah State Legislature's website.