Rep. César Chávez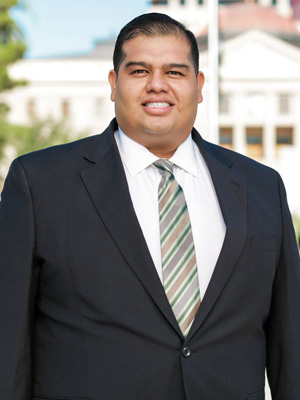 Representative César Chávez (AZ-29) is serving his full term as Vice President for Membership of the National Hispanic Caucus of State Legislators. Prior to his election in December 5, 2019, he had been serving by appointment in the same role to fill the vacancy left by a retiring member. Before that, Rep. Chávez had been the Chair of NHCSL's Civil Rights Task Force and Vice Chair of the Immigration, Human and Civil Rights Task Force.
César Chávez was born in Moroleon, Guanajuato, a small town in the heart of Mexico. In search for greater opportunities that were not provided in their hometown, his parents and César immigrated to the United States when he was three years old. The Chávez family initially settled outside of Philadelphia in a public housing facility undocumented, with no money, and a lack of English.
César's father quickly understood that in order to succeed in this country he would have to find a way to provide his family the proper documentation to seek better jobs and learn the English language. This lead the family to move once again to a city that was developing rapidly and would provide them with higher paying jobs. In 1996, they arrived in Phoenix, Arizona where the family was able to purchase their first home in the Maryvale community. This home was the beholder of beautiful memories and accomplishments.
As a product of public education, César first handedly saw the lack of resources and struggles that his school teacher would have to go through. However, he was lucky to have teachers that always attempted to provide their students with the utmost best education that they could with what little they had. He knew the importance of a high quality education because his parents always modeled that in order to succeed you must be educated.
In high school, César met who would become his mentor and guide towards becoming a public servant. Former State Representative Ben Miranda, took César as his apprentice and taught him what it was to be fearless and to act with your heart for the better good of the community. Together they organized some of the nation's largest protests against anti-immigrant legislation and hosted many forums to inform the community of their rights. Before Representative Miranda's passing, he conversed with César and provided words that have been engraved in his mind, "You are our new hope, with your knowledge and heart you will do what is in the best interest of our communities. It is up to you to take upon the responsibility of moving our state forward and away from the negative noise that has followed it in the past couple of years."
César and his family have lived in the shoes of the constituents of district 29 and knows what it is to be an undocumented immigrant, live in public housing, be a product of public education, and what it is to lack the resources necessary to live a comfortable lifestyle. He will advocate for the working class, bring revitalization to our neighborhoods, partner with corporations that can bring jobs back into the district, and provide accessible healthcare.