Asw. Yvonne López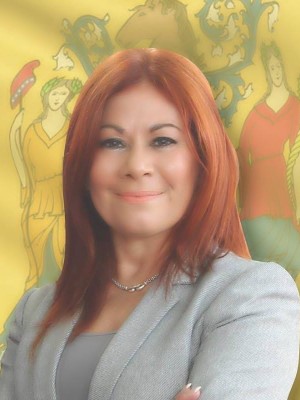 Assemblywoman Yvonne López was elected to the State of New Jersey General Assembly in November of 2017 representing the 19th Legislative District (Carteret, Woodbridge, South Amboy, Perth Amboy, Sayreville). Assemblywoman López currently serves as Vice-Chair of the Transportation and Independent Authorities and is a member of the Financial Institutions and Insurance, Environment and Solid Waste and the Oversight, Reform and Federal Relations committees respectively.
Assemblywoman López serves as a Commissioner on the New Jersey Complete Count Commission and the New Jersey Puerto Rico Commission. She is the Vice Chair of NHCSL's Latino Voting and Elections Task Force which has jurisdiction over Census issues.
Assemblywoman López served as the Executive Director /CEO of the Puerto Rican Association for Human Development, Inc. (PRAHD) for over five years. In that role, she was responsible for the day-to-day operations of PRAHD and its 80 employees and 10 programs. Assemblywoman López provided direction and leadership while creating a highly successful integrated fundraising, community relations and public relations strategy.
Prior to joining the non-profit sector, Assemblywoman López served as the Vice President/Community Affairs Manager for Wachovia Bank and several of its predecessor banks. She was responsible for setting the direction for and achievement of community relations goals and objectives relative to philanthropy and employee involvement in the tristate region. Assemblywoman López managed a $5 million foundation budget and a public relations/sponsorship budget of $1.5million. She managed Wachovia's annual work place giving campaign and New Jersey's signature program with the State of New Jersey Department of Community Affairs, the Wachovia/DCA Housing Scholars Program. The Assemblywoman actively developed and deployed integrated community plans including programs and charitable giving to support Wachovia's community priorities and community development efforts. She also worked as the Director of Donor Relations for the Trinitas Health Foundation and was responsible for cultivating new donors for the Foundation. Assemblywoman López supported the management and implementation of the Foundation's comprehensive stewardship and donor campaigns, including strategic and visionary thinking for greater community outreach. She secured $1.5 million in funding for the Trinitas Regional Medical Center's capital project the Center of Regional Education (CORE).
Assemblywoman López is also a Democratic State Committeewoman and former North Brunswick Democratic Committeewoman. She is the founder of the Boys and Girls Clubs of Perth Amboy, NJ and has served on several boards and commissions—including the Middlesex County Human Services Advisory Council, the Local Advisory Committee for Hackensack Meridian Health, Raritan Bay Medical Center, the Perth Amboy Business Improvement District, the North Brunswick Zoning Board, the Board of Advocates for Children of New Jersey, the Board of Friends & Families United Inc., New Jersey SHARES and Coming Home of Middlesex County.
Assemblywoman López has been recognized by several organizations for her years of tireless public service and humanitarian efforts. Among the awards are The President's Volunteer Service Award—USA Freedom Corps; United Way of Central Jersey Hometown Heroes Award; Pioneer Award— Rutgers University, Center for Strategic Urban Community Leadership; Peter T. Maher Board Volunteer of the Year—Boys and Girls Clubs of New Jersey; Woman of Distinction—La Tribuna Newspaper; Outstanding Role Model Award, Friends & Families United Inc.; Honorable Mathias E. Rodriguez Humanitarian Award— Learning Empowerment Achievement Foundation (LEAF); the Beacon of Light Award— Stop The Funeral Foundation; Non-Profit Advocate of the Year Award— Statewide Hispanic Chamber of Commerce of New Jersey; The Nuestros Niños Award—The Latino Institute, Inc.; the Diversity Award – The Positive Community, the New Jersey Society of Optometric Physicians – Public Service Award, Mental Health America 2019 Legislative Award, the LUPE Fund's Legislator of Distinction Award and Cathedral International's Community Leader Award.
Currently residing in Perth Amboy, NJ, Assemblywoman López studied at Rutgers University and completed several advanced certificate programs with Boston College, Union School of Business and Rutgers University—Center for Strategic Urban Community Leadership Institute.