Congressman Adriano Espaillat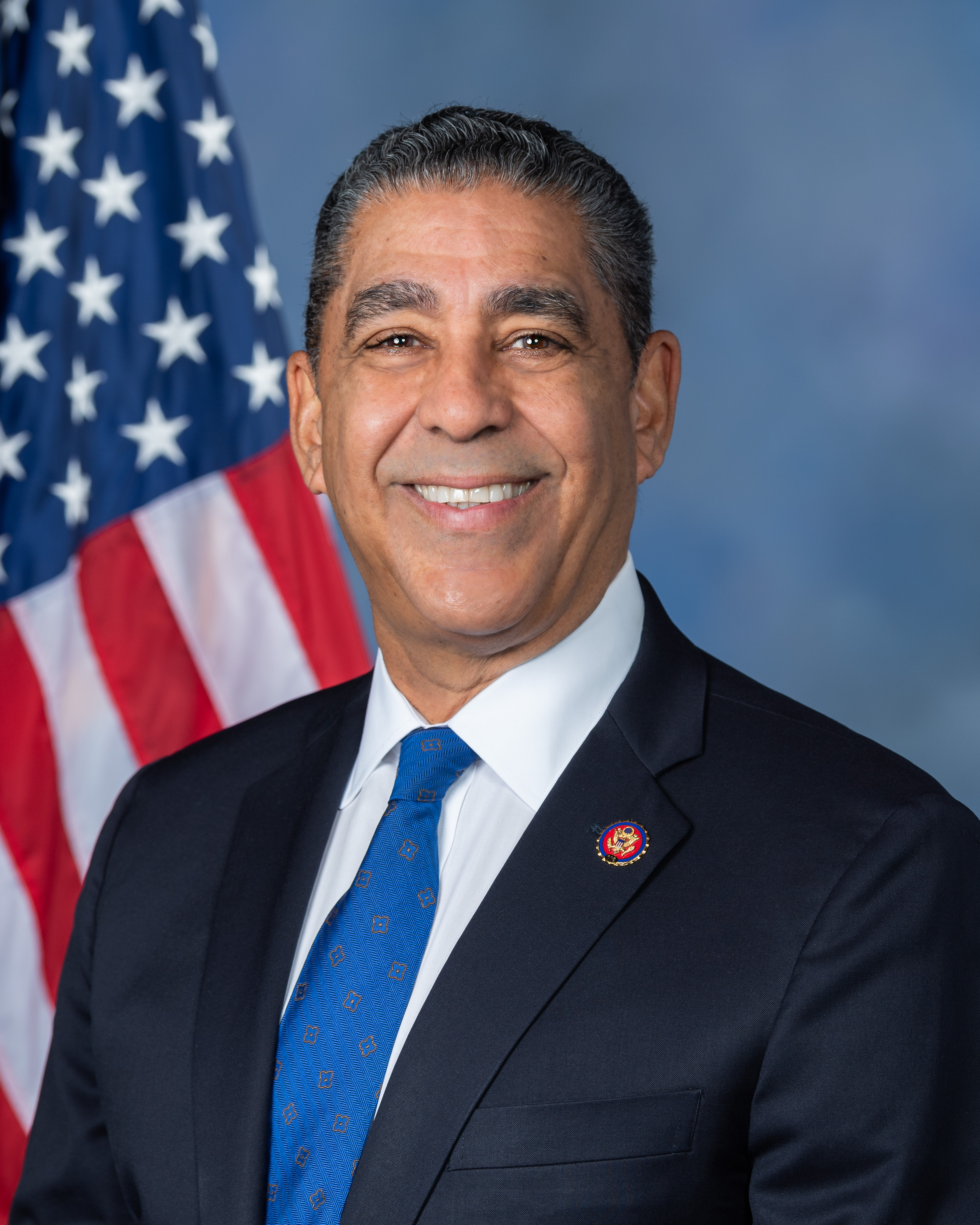 Congressman, 13th Congressional District of New York
U.S. Representative Adriano Espaillat proudly represents New York's Thirteenth Congressional District.
Representative Espaillat is the first Dominican American to serve in the U.S. House of Representatives and his congressional district includes Harlem, East Harlem, West Harlem, Hamilton Heights, Washington Heights, Inwood, Marble Hill, and the north-west Bronx.
First elected to Congress in 2016, Representative Espaillat was sworn into office on January 3, 2017, during the 115th Congress and is serving his third term in Congress.
Representative Espaillat currently serves as a member of the influential U.S. House Committee on Appropriations responsible for funding the federal government's vital activities to keep the United States safe, strong, and moving forward. Representative Espaillat is also a member of the House Committee on Education and Labor and the Congressional Hispanic Caucus (CHC), where he serves in a leadership role as the Second Vice Chair. Representative Espaillat is a member of the Congressional Progressive Caucus, where he serves as Deputy Whip, and he serves as a Senior Whip of the Democratic Caucus. Through his committee assignments and caucus leadership positions, Representative Espaillat helps advance and amplify legislative priorities and accomplishments that aim to improve the lives of families around the nation.
Together with his Democratic colleagues, Representative Espaillat worked to pass more than 900 bills during the 116th Congress, including bipartisan legislation to clean up government, defend access to affordable health care, lower prescription drug costs, respond to the COVID-19 pandemic, invest in our nation's infrastructure, and support policies for job creation and economic growth. Additionally, during the 116th Congress, Representative Espaillat introduced more than 40 bills and resolutions aimed at improving the lives of constituents, helping small businesses become more competitive and recover from the pandemic, protecting the rights of immigrants, securing funds to complete the Second Avenue Subway's extension into East Harlem, and helping to secure federal grant funding for New York's 13th congressional district.
A steadfast champion for working- and middle-class New Yorkers, Representative Espaillat is a staunch advocate of a fair living wage, immediate and effective investments in affordable housing, meaningful criminal justice reform, infrastructure improvements, expanded youth programs, and better educational opportunities.
Throughout the tenure of his career in public service, Representative Espaillat has been a vocal advocate for protecting tenants, improving schools, and making serious, smart investments in economic development, job creation, and environmental protection. Prior to coming to Congress, he served as a New York State Senator during which he represented the neighborhoods of Marble Hill, Inwood, Washington Heights, Hamilton Heights, West Harlem, the Upper West Side, Hell's Kitchen, Clinton, and Chelsea.
While in the New York State Senate, he served as the Ranking Member of the Senate Housing, Construction, and Community Development Committee; Chairman of the Senate Puerto Rican/Latino Caucus; and as a member of the Environmental Conservation, Economic Development, Codes, Insurance, and Judiciary committees. Prior to his tenure as a state senator, he served in the New York State Assembly, and in 1996 became the first Dominican American elected to a state legislature. In 2002, Espaillat was elected chair of the New York State Black, Puerto Rican, Hispanic and Asian Legislative Caucus.
Prior to entering elected office, Representative Espaillat served as the Manhattan Court Services Coordinator for the NYC Criminal Justice Agency, a non-profit organization that provides legal services to those in need and works to reduce unnecessary pretrial detention and post-sentence incarceration costs. He later worked as Director of the Washington Heights Victims Services Community Office, an organization offering counseling and other services to families of victims of homicides and other crimes, and as the Director of Project Right Start, a national initiative funded by the Robert Wood Johnson Foundation to combat substance abuse by educating the parents of pre-school children.
Representative Espaillat is a member of Phi Beta Sigma Fraternity, Incorporated and a proud father and grandfather.
---
El congresista Adriano Espaillat representa orgullosamente el Distrito Congresual 13° de Nueva York.
El congresista Espaillat es el primer domínico-estadounidense en servir en la Cámara de Representantes de los Estados Unidos y su distrito congresual incluye Harlem, East Harlem, West Harlem, Hamilton Heights, Washington Heights, Inwood, Marble Hill y el noroeste de El Bronx.
Elegido por primera vez al Congreso en 2016, el congresista Espaillat asumió el cargo el 3 de enero de 2017, durante el Congreso 115° y está cumpliendo su tercer mandato.
El congresista Espaillat actualmente se desempeña como miembro del influyente Comité de Apropiaciones de la Cámara de Representantes de los EE. UU., responsable de financiar las actividades vitales del Gobierno federal para mantener a los Estados Unidos seguros, fuertes y avanzando. El congresista Espaillat también es miembro del Caucus Hispano del Congreso (CHC), donde desempeña un papel de liderazgo como segundo vicepresidente, y es miembro del Caucus Progresista del Congreso, donde se desempeña como coordinador adjunto. El congresista Espaillat también se desempeña como coordinador sénior del Caucus Demócrata. A través de sus asignaciones en comités y posiciones de liderazgo en el caucus, el congresista Espaillat ayuda a avanzar y amplificar las prioridades y logros legislativos que tienen como objetivo mejorar la vida de las familias en toda la nación.
Junto con sus colegas demócratas, el congresista Espaillat trabajó para aprobar más de 900 proyectos de ley durante el Congreso 116 °, incluida una legislación bipartidista para limpiar el gobierno, defender el acceso a atención médica asequible, reducir los costos de los medicamentos recetados, responder a la pandemia de COVID-19, invertir en la infraestructura de nuestra nación y las políticas de apoyo para la creación de empleo y el crecimiento económico. Además, durante el Congreso 116 °, el congresista Espaillat introdujo más de 40 proyectos de ley y resoluciones dirigidas a mejorar la vida de los constituyentes, ayudar a las pequeñas empresas a ser más competitivas y recuperarse de la pandemia, proteger los derechos de los inmigrantes y obtener fondos para completar la extensión a East Harlem del Subway de la Segunda Avenida, y ayudar a asegurar fondos de subvenciones federales para el Distrito Congresual 13° de Nueva York.
Un defensor constante de los neoyorquinos de las clases media y trabajadora, el congresista Espaillat es un firme defensor de un salario digno, inversiones inmediatas y efectivas en viviendas asequibles, reformas significativas de la justicia penal, mejoras en infraestructura, de la ampliación de los programas para la juventud, y de mejores oportunidades educativas.
A lo largo de su mandato como servidor público, el congresista Espaillat ha sido un firme defensor de la protección de los inquilinos, del mejoramiento de las escuelas, y de las inversiones serias e inteligentes en materia de desarrollo económico, creación de empleo y protección ambiental. Antes de llegar al Congreso de los Estados Unidos, sirvió como senador estatal de Nueva York, representando a las comunidades de Marble Hill, Inwood, Washington Heights, Hamilton Heights, West Harlem, el Upper West Side, Hell's Kitchen, Clinton y Chelsea.
Mientras estuvo en el Senado Estatal de Nueva York, sirvió como miembro de rango del Comité de Vivienda, Construcción y Desarrollo Comunitario del Senado, y presidente del Caucus Puertorriqueño/Latino del Senado; también fue miembro de los Comités de Conservación Ambiental, Desarrollo Económico, Códigos, Seguros y Judicial. Antes de convertirse en senador estatal, sirvió en la Asamblea del Estado de Nueva York, y fue el primer domínico-estadounidense elegido a una legislatura estatal. En 2002, Espaillat fue elegido presidente del Caucus Legislativo Afroamericano, Puertorriqueño, Hispano y Asiático.
Antes de ingresar en el servicio público, Espaillat sirvió como coordinador de Servicios de la Corte de Manhattan para la Agencia de Justicia Penal de NYC, una organización sin fines de lucro que proporciona servicios legales a personas necesitadas y trabaja para reducir los costos innecesarios en detención previa al juicio y de prisión posterior a la sentencia. Más tarde trabajó como director de la Oficina Comunitaria de Servicios a las Víctimas de Washington Heights, una organización que ofrece consejería y otros servicios a las familias de las víctimas de homicidios y otros delitos, y como director del Proyecto Right Start, una iniciativa nacional, financiado por la Fundación Robert Wood Johnson, para luchar contra el abuso de drogas mediante la educación de los padres de los niños en edad preescolar.
El congresista Espaillat se siente orgulloso de ser padre y abuelo.